Welcome to the Community Organizing Toolkit!
What's It About?
The Toolkit is a set of resources that supports face-to-face training for residents and community leaders. The computer-based component (the "Organizing Game") is used to introduce concepts, prompt discussion, and allow residents to practice skills in a safe, non-threatening environment. The initial focus of the Toolkit is teaching Doorknocking, an organizing technique that's particularly effective in moving issues within a local community.
---
Requirements
This version of the game requires a Chrome browser with the Flash Player plugin. It does not completely play in other browsers.
We are currently working to update the game to a new more easily accessible format.

---
Instructions
The first time you play the game, you will need to activate the Flash player:

1. After clicking a game link (below), you will be prompted to "Get Adobe Flash Player."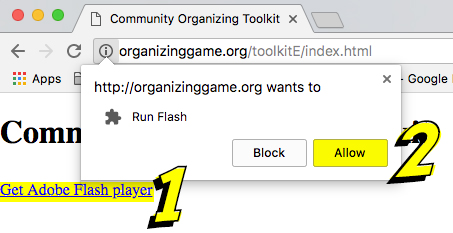 Please click this, and a pop-up will ask permission to "Run Flash".

2. Click "Allow" to ensure the game loads and plays properly.
---

Game Links
You can play the Organizing Game online by clicking one of the links below.


If you're still having problems running the game in Chrome, click here.

---

Who's behind the project?
The Toolkit is the result of a partnership: